Call us NOW!!! Telephone : 01392 203333
Water Treatment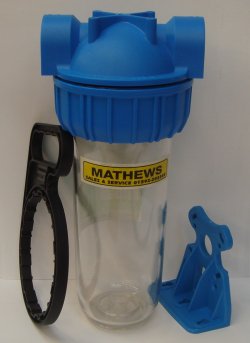 10 " Water filter housings are available in three formats; single, double, and triple versons. Also available in: 5", 7", 20" upon request.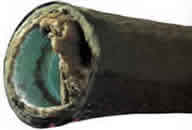 WATER TREATMENT


Groundwater from wells and boreholes is subject to impurities picked up from rock-strata, such as iron and calcium. Mains water is additionally subject to chemical contaminants from pesticides and industrial pollution and to other impurities from the recycling process. The most common problem is scale, the solution being a simple ion-exchange softener. However to solve your own water supply problems, you often need the accurate analysis and professional chemical and engineering skills that we can provide.



DE-IONISATION
De-ionisation by automatic Twin-Column Ion-Exchange will completely remove the majority of dissolved minerals from raw water. Regeneration of the ion-exchange resins is effected with acid and caustic which must be accurately dispensed for safety and efficiency.
IRON, MANGANESE & ALUMINIUM REMOVAL
This process uses oxygen to render the contaminants insoluble. The resultant precipitate is then filtered out and backwashed from the system to the drain. A choice between three filter media is made dependent on exact water analysis and the system design, and the removal of hydrogen sulphide is also possible.

PESTICIDE, CHLORINE & COLOUR REMOVAL
Granular activated carbon is used on both small (point of use) and large, high flow, systems where back-washing is appropriate. Contaminants are absorbed or converted by the activated carbon.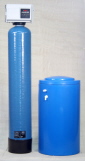 NITRATE REMOVAL

Nitrates need to be reduced by ion exchange in a filter-bed similar to a softener, or removed by reverse osmosis. This can be done on either a large scale (point of entry) or, for drinking purposes, with a small unit at point of use.

TURBIDITY REMOVAL
General turbidity removal at high flows can be achieved satisfactorily down to low micron levels using layered media beds. Other specialist media may need to be added to improve polishing with certain waters.

AIR & OZONE INJECTION

MEMBRANE FILTRATION: REVERSE OSMOSIS & NANO

The performance of iron/manganese units is enhanced by the addition of oxygen before the catalytic filter, either from air drawn in through a venturi, or from ozone from an ozone generator. Air injection also helps raise pH by gassing off carbon dioxide and reducing hydrogen sulphide (bad taste).

Call us NOW!!! Telephone : 01392 203333